Description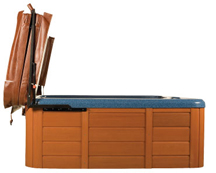 . Requires only 4″-6″ of clearance.
• Works inside most gazebos
• Mounts to edge of spa cabinet or directly to deck
• When cover is open, it doubles as a privacy wall.
• Dual gas springs with locking safety feature
• Durable zinc plated and powder coated finish.
• Highest quality stainless steel hardware.
• Accessory brackets are available to fit specific spa manufacturers' needs.
• Five year limited manufacturer's warranty.
• Two sizes to fit spas up to 96" •Shipping Dimensions: 32" x 8" x 3", 20 lbs.