SPA MEASURING TIPS
Why can't I just order my spa cover with the make and model of my spa?
Unlike cars, spa manufacturers are constantly modifying the spas. Sometimes twice a year!!!!……Although we have templates for hundreds of the most popular, your measured dimensions are the most accurate and ensure a proper fit.
Should I measure my cover or my spa?
If you like the way your current cover fits, measure the cover. However, if your current cover is warped or damaged in any way, we recommend you measure your spa. The covers have a tendency to shrink over time, so measuring the spa is a foolproof way to get the correct measurements and a spa cover that fits.
Where should I measure?
There are 3 common types of spa or hot tub installation (shown below). Pick the type that closely matches your spa or hot tub, and measure accordingly:
Measure each requested dimension in inches at the widest point. Round up every measurement to the nearest inch. A general rule about your measurements is that if a cover is a little too big, it will most likely fit fine. If it's a little too small, it WILL NOT!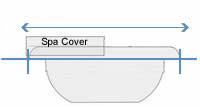 If you have an in-ground spas measure from the widest points above the ground.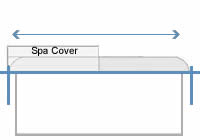 If your spa has a cabinet with no rail, measure from the widest point on the acrylic lip.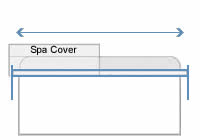 If your spa has a rail, measure from the widest points on the rail.
I have an area or areas on my spa that is raised above the acrylic. How do I order?
Air buttons, head rests, control panels, handles, etc that are raised above the lip require special custom cut-outs and recesses. We do these all the time. A detailed exploded view is required and an additional custom charge is applied. Please contact us for more info.
*We will manufacture your spa or hot tub cover to the dimensions that you specify. We do not make any alterations or changes without your consent. In some cases we might contact you if the dimensions you provided look unfamiliar, or do not equate geometrically.