Description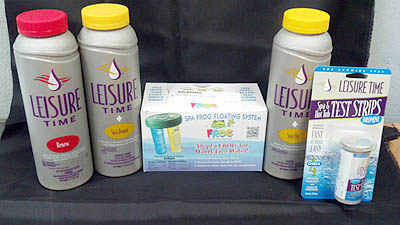 This best-selling kit contains the essential products needed for spa start-up and maintenance including sanitizer, shock, sequestering agent, defoamer, test strips, clarifier and balancers. The kit also contains the Simple Spa Care® video and Spa Care Guide outlining the NEW Simple Spa Care Program.
Tips:LT_Complete_Spa_Care_Kit
Includes scoop for accurate product measuring.
Contents:
Bright & Clear

Safe for Ozone – Does not cause build-up!

Foam Down

Spa Up

Spa Down

Metal Gon

Defender

Renew

Spa 56 Chlorinating Granules

Fast Gloss

Spa & Hot Tub Test Strips

Simple Spa Care® Instructional DVD

Cover Wipes

EsScents Fragrance Sample